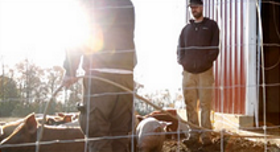 Life of an Ingredient
Life of an Ingredient Episode 1 is complete! Thank you to the 90 Kick Starter Backers who believed in us the whole way through. With your love, interest, support and encouragement we were able to tell the story of two farmers and their 170-acre Blue Ridge Mountain haven and how they are irrevocably connected to the pursuit for high quality, humanely raised food served to customers in equally well-respected restaurants.
Our two farmers, Nick and Jay, generate a great energy. Jay was raised in the Blue Ridge Mountains whereas Nick pursued an early career in the financial world. Bringing their talents and passions together, they help us understand that there is a real need to farm naturally and for a good cause. They respect their animals and farm their 170-acres using organic practices.
Zach Mills, our Chef in this film, introduced us to Nick and Jay's Catoctin Mountain Farms. Zach is the Executive Chef at Michael Mina's Wit & Wisdom Restaurant located on the Inner Harbor in Baltimore, Maryland. Wit & Wisdom is a pillar restaurant for the Four Seasons hotel location and Charm City its self. Chef Zach is a cuisine powerhouse. 
Chef Zach, like myself, caught the boutique farm to plate bug early on in his career. By coincidence, we are both from the Eastern Shore of Maryland. We have always had a deep appreciation for the land and water around us. It is through growth & education of our craft that allows us to return to our fundamental Eastern Shore farm years. With a clearer perspective, we have chosen to source and use only products that are raised with the respect it deserves. We both realize a great chef is not built from recipes filed away in the mind; a great chef is built from an intense compassion for the sanctity of a product. It is this pursuit that drives us to places like Catoctin Mountain Farms.
I hope everyone will enjoy the show! I thoroughly enjoyed making it for our Kick Starter Supporters and everyone else who has shown interest. Share this with your friends! It would be an honor to continue this wonderful project exposing more of our country's pioneers of healthy cuisine. Let's make champions out of the Dirt to Table radicals out there working hard and making a difference. We too can make a difference – our dirt and people are counting on us.